Autumn/Winter Designs, Discounts & More
Posted on
Miss Bohemia Update: Autumn / Winter Designs, Discounts & More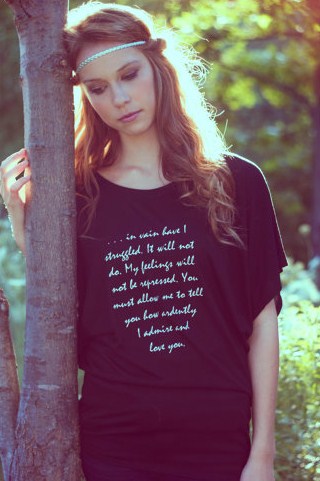 As we wave goodbye to the Summer, today's post features some of my newest Autumn / Winter designs and along with an update on Miss Bohemia's latest news. These designs will be in keeping with the literary theme and will soon include some 'festive' versions too. All designs are screen printed by hand with eco-friendly ink!
The top featured above is not strictly Winter wear, but this design is one of my favourites styles. It can be worn off-shoulder and has flowy dolman sleeves and a longer length which can be worn gathered up on the waist or over the hips. The one I have featured here is 'Mr Darcy's proposal in black but other quotes and colours are available too.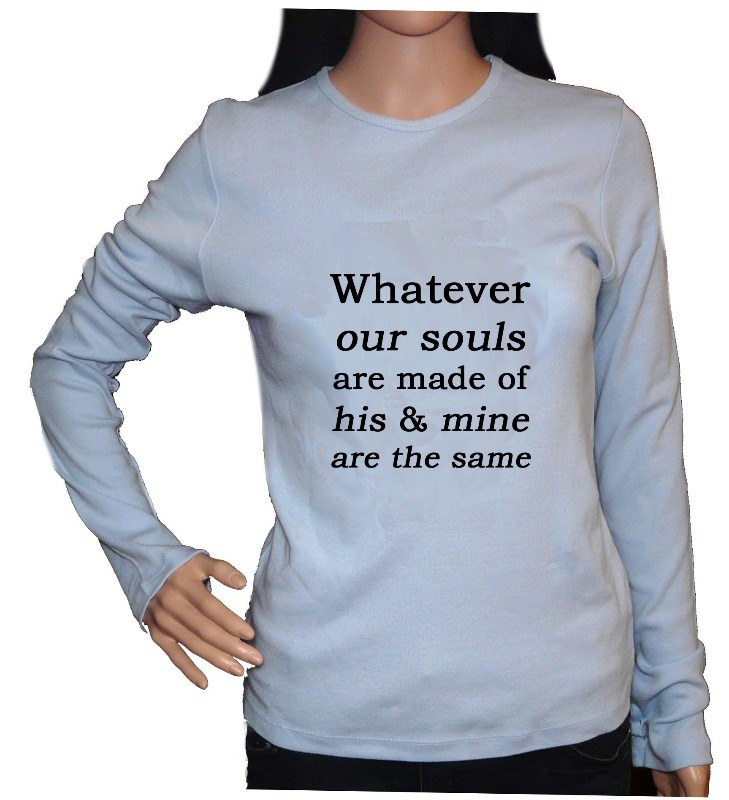 This long sleeve tee has a great fitted style and is currently available in baby blue! Featured above with a Wuthering Heights quote it is also available with Darcy's Proposal too. This will look great on its own but could also be worn with a cardigan when the colder weather kicks in!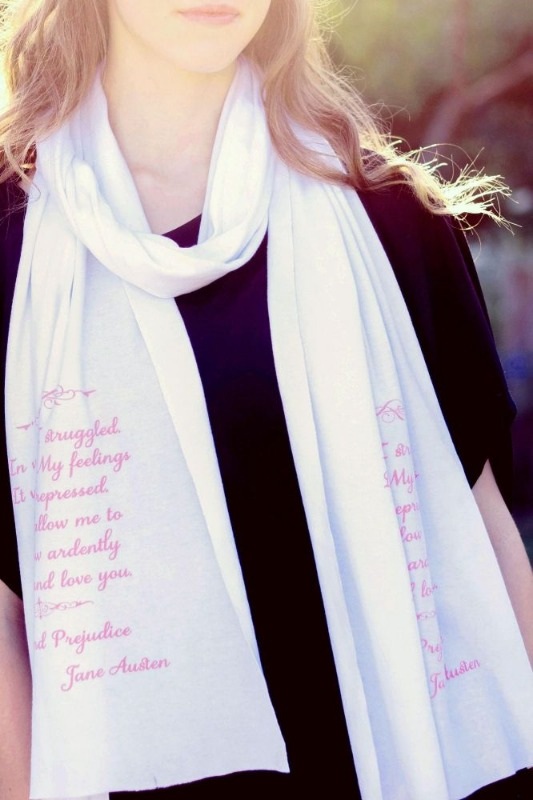 Of course you'll want to team up your sweaters and tops with a stylish scarf like my new Mr Darcy scarf in pink and white. For more scarf choices including Wuthering Heights and Sherlock Holmes stop by my website.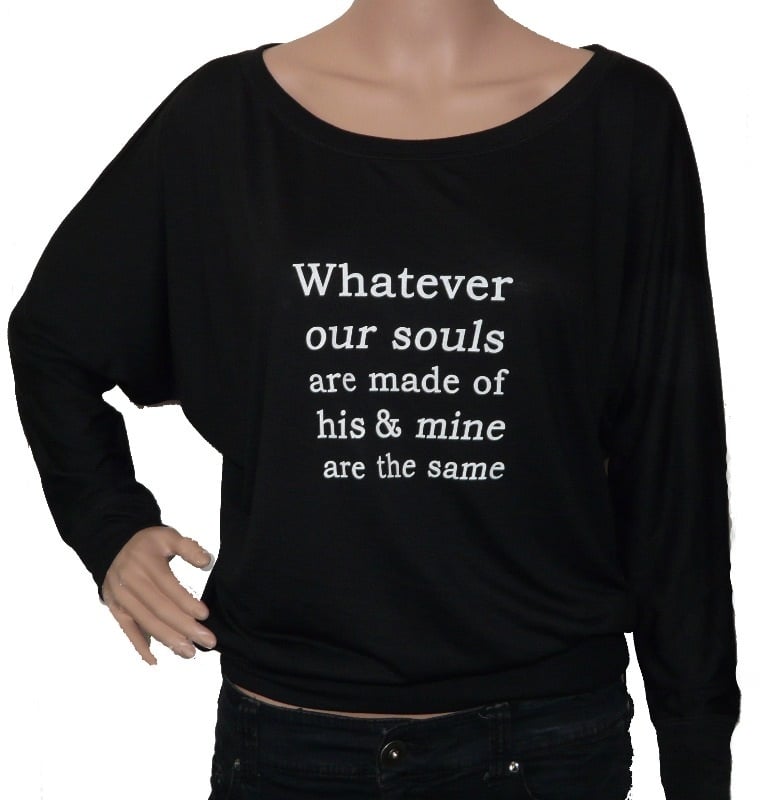 This slouchy style top is another favourite as it's so comfortable and not as heavy as the more classic sweatshirts. The one shown features a Wuthering Height quote in black but is also available in other quotes and colours.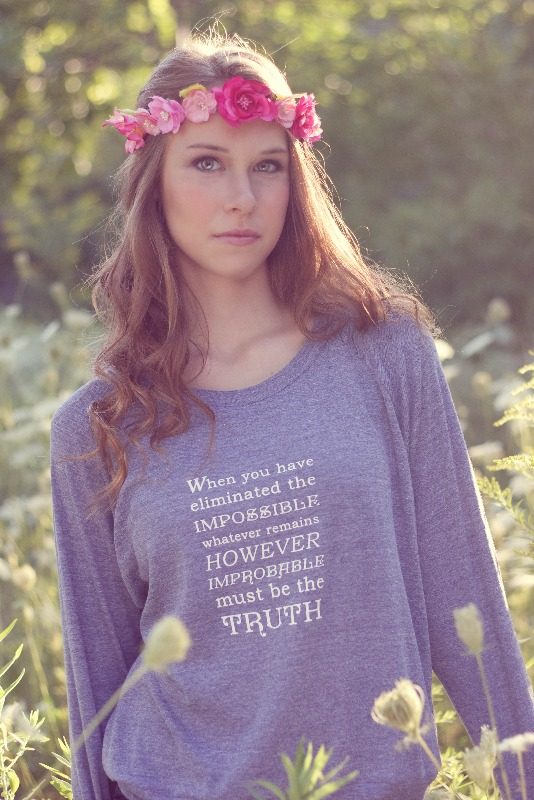 This 'Sherlock' sweatshirt was the first sweatshirt at Miss Bohemia and it's a similar but slightly heavier version of the one featured above (although still more lightweight than traditional sweatshirts). It's all about comfort along with a romantic soft style! *The brand is American Apparel.
My newest addition is a more heavier stylish fitted classic sweatshirt as featured above with a well know 'Sherlock' quote. It's a cotton/polyester mix with taped crew neck. Currently available in Heather grey and black heather grey with a range of diffeent quotes.
All designs are available here and the clothing and apparel section can be found here. Most of these designs include sizes small to extra large but I will be adding another sweatshirt range which will fit up to sizes XXL. These sweatshirts will also be a cotton/polyester mix but will also have a full colour range and best of all will be unisex so cator to both the guys and the girls!
Giveaway update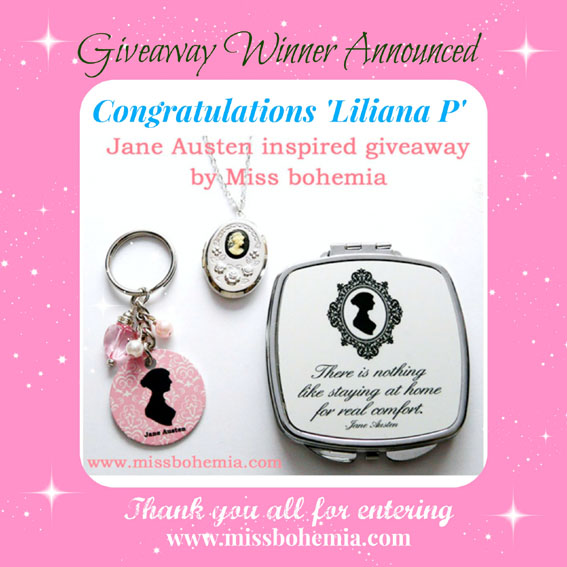 The winner for my Jane Austen Giveaway was drawn via Rafflecopter and Random.Org and has been contacted via her entry email! Congratulations to 'Liliana P' – your prizes are on their way!
*Another new giveaway coming soon – this will be a Sherlock inspired giveaway so stay tuned!
Special Offers & Discount Codes
This Friday's weekly half price offer is the 'Wizard Of Oz' mug featuring Dorothy's red slippers and the quote 'There's no place like home'. Offer ends Friday 3rd October a.m.
*Just 2 days left before my 10% off everything offer ends (30th September 2014 at midnight). Enter 'JANEAUSTEN1' at checkout. Can be used at www.missbohemia.com and in my Etsy shop!
Thanks for stopping by!
Miss Bohemia