What's new at Miss Bohemia and 7 Gift Ideas For Book Lovers
Posted on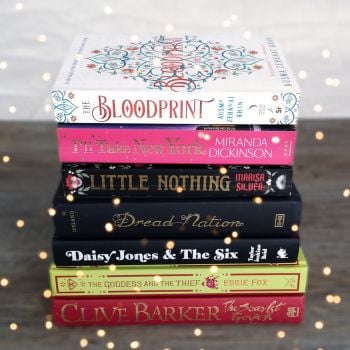 April - Bookstack - what we're looking forward to reading this month
Hey bookworms, it's been a while since this blog was updated but I'm changing that with a look at our newest products and a shop update on some much needed changes.
If you've stopped by the website recently, you'll notice that there's a lot of new products at Miss Bohemia. We decided it was time for an overhaul! We'll be keeping a lot of our old classics but some designs will be removed to make way for the new. Most noticeably our sleek black mugs are currently sold out but they will be back in September, the slimline Austen mugs will be going, as will our silver rim enamel mugs and mini mugs.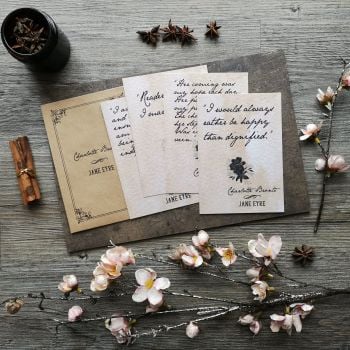 Jane Eyre Love Notes/Prints
1. Bookish prints
We've updated our bookish prints and in addition to giving them a make-over we've added some new and inspiring designs here. Our new Love Notes/Print range features a set of 4 notes complete with a rustic styled envelope and these are available with quotes from the following book titles;- Jane Eyre, Wuthering Heights and Pride & Prejudice and can be viewed here.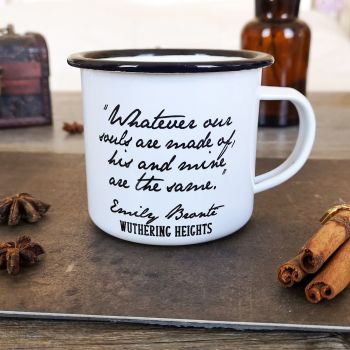 Whatever our souls... Emily Bronte Enamel Mug
2. Literary enamel mugs
Book lovers are sure to love our new literary enamel mugs. They have a sleek and glossy style and I've included a mix of vintage/gothic and classic designs. We will be switching all the silver rim version over to the our new black rim mugs soon. If you're quick you can get yourself a bargain as some silver rim stock is on sale. These are great for tea and coffee drinkers alike and make great gifts! View the full collection here.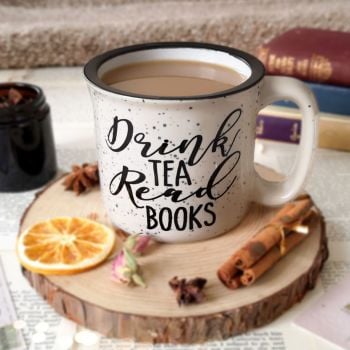 Drink tea/coffee campfire mug
3. Campfire cozy bookish mugs
If you're after something a little more rustic looking, you can't go wrong with our newest campfire styled mugs. These bad boys hold 450ml of liquid and weigh a lot more than our regular 11oz mugs. They're available in beige and there's currently 3 designs (tea, coffee and one for Gilmore Girls fans) but more will be added to this range soon. Perfect for rainy days when you just want to drink tea/coffee and stay in and read books.
4. Literary tea cups and saucers
I'm so delighted to be able to introduce a new range of literary tea cups and saucers! If you're looking for an alternative to regular mugs, these tea cups are perfect for tea drinkers and they can also double up as expresso cups too. There's a Wonderland design and a Jane Austen one too and you'll see more appearing as the range grows.
5. Tablets / Book sleeves
These wonderful book sleeves have a top opening that will help to protect your paperback books. They're made of a faux leather with a fine grain imitation leather styled pattern. Match it to your book with one of these available colour choices - dark sleek black, soft pink or white! They can be used with iPads, smaller tablets and Kindles (check measurements before purchasing).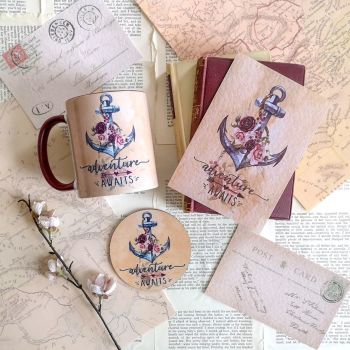 Adventure Awaits Gift Set
6. Adventure Awaits - Boho Collection
We couldn't resist adding a new boho collection for readers who love to travel to different places within books! Created with a rustic vibe, this collection features soft brown hues, sepia tints and also offers a classic alternative in white. There's a gift set available (think birthdays, Christmas and thank you gifts) as well as individual pieces.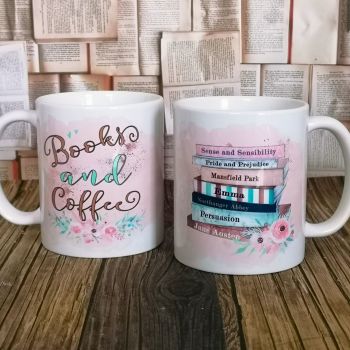 Jane Austen Book Stack Mug
7. New in - classic 11oz mugs
Ok, so we couldn't end this blog post without featuring a new edition from our standard 11oz mugs as that's what we're know for. Today's pick is this pretty design based on Jane Austen's novels with a books and coffee theme mixed in. Peach, pink and mint is the chosen colour theme and there's fake coffee splashes on this design too!
If you've read until the end...
We have a treat in store for you!
Gift ideas for book lovers discount code
Please enjoy 10% off with the code 'BOOKGIFTS10' until the 1st May 2019 at Miss Bohemia!
If you liked our gift ideas and this blog post, please feel free to share it with other bookworms too!
Thanks for stopping by...