A Year of Chasing Love by Rosie Chambers Blog Tour & Review
Posted on
A Year of Chasing Love by Rosie Chambers Blog Tour & Review
Today I'm taking part in the blog tour for book tour for 'A Year of Chasing Love' by Rosie Chambers (published 6th January 2020!
A Year of Chasing Love is described as a 'delightfully uplifting holiday read for 2020'!
Book blurb
One moment can change a lifetime…
The last thing top divorce lawyer Olivia Hamilton ever expected was to be served her own divorce papers! To escape her marriage troubles, she agrees to go on a year-long trip to find the ultimate guide to love.
Travelling the world, surrounded by stories of love and happiness, it's not long before her thoughts turn to Nathan, her soon-to-be ex-husband, and she starts to take note of her own lessons in love…
But with Nathan over a thousand miles away, will it be too late?
Perfect for fans of Cathy Bramley, Philippa Ashley and Caroline Roberts.
My review
A Year of Chasing Love is an endearing story about romance, travel and taking chances!
The story kicks off with our main protagonist and top divorce lawyer Olivia being served with her own divorce papers at her workplace! Although Olivia was aware that there were problems in her marriage (mostly down to being so focused on her career that she never finds the time to actually spend time with her husband Nathan), she nevertheless devastated by this news!
Overworked and stressed out, she's 'persuaded' to take a 10-month sabbatical, and through her friend Rachel, Olivia finds herself on a 'research' trip visiting countries where divorce rates are lower and marriages have a higher success rate. Her journey begins with Malta and ends in Paris (also known as the City of love)! At first this seems like a great way to escape her marriage blues but through doing research while writing a guide on lessons in love and what makes a marriage last, Olivia's true journey is the self-reflection that allows her to discover herself, examine her relationships with others and what really matters to her! That said, while Oliva was a strong-minded and a high achieving career woman, her self-doubts and self-criticisms were aplenty.
Olivia is faced with a choice of trying to save her marriage or moving on and while I won't spoil the ending, I will say that A Year of Chasing Love is a funny and interesting story about love and relationships. That and the gorgeous locations make it a great escape read debut novel from Rosie Chambers!
Thank you NetGalley and HQ Digital for this ARC in exchange for an honest review.

Thank you to HQStories for the ARC of A Year of Chasing Love. Thank you to everyone who has stopped by – I hope you have enjoyed my review. Please check out the rest of this blog tour for more thoughts and reviews about this book!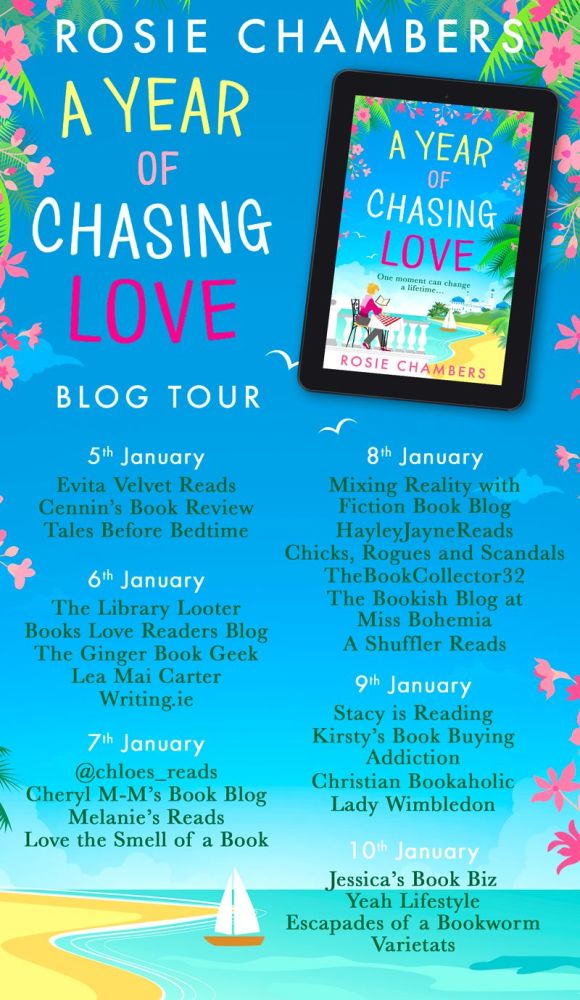 About the Author
Rosie Chambers loves writing uplifting, feel-good stories set in sun-filled locations around the world. Her stories are filled with fun, friendship and foodie treats, which Rosie hopes will bring a smile to her readers' faces.
She's always in the market for quirky stationery and is never happier than with a pen in one hand and a cup of tea and a chocolate biscuit in the other. A YEAR OF CHASING LOVE is her debut novel.
You can find Rosie Chambers on
Twitter @ https://twitter.com/RosieCbooks
More information and where to buy
Title: A Year of Chasing Love Author: Rosie Chambers
Publisher: HQ Stories
Published: Ebook available January 6th 2020 Paperback available March 19th 2020