Burn by Patrick Ness ~ Review & Tour with Walker Books YA & Tandem Collective
Posted on
Burn by Patrick Ness ~ Review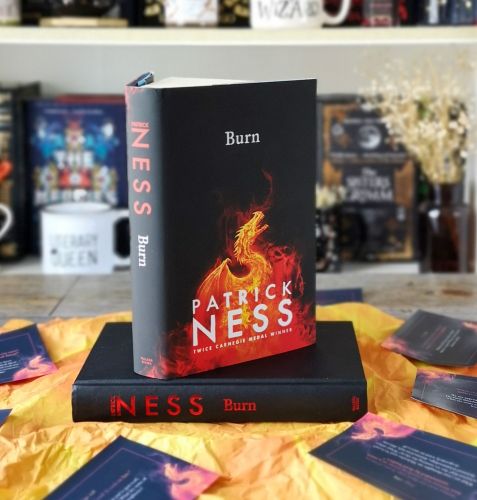 Book Blurb
From the award-winning author of A Monster Calls, Monsters of Men and The Knife of Never Letting Go comes a brand new, highly anticipated book. Patrick Ness and DRAGONS - what more could one ask for? "Sarah Dewhurst is just a small town girl. Well, she was until Kazimir showed up. Kazimir is the dragon that her father has hired to work on their farm. A dragon that only accepted the work because of a prophecy that has an assassin, a cult of dragon worshippers and two FBI agents at its heart. And of course, Sarah herself, not that she knows it yet. From the Author of A Monster Calls and the Chaos Walking Series comes a brand new story of friendship, bravery and second chances in a world where we're our own worst enemies."
My Review
"She is fire without boundary and would devour everything".
I knew that Burn was a fantasy novel involving 'dragons' and a prophecy with a girl called Sarah at it's centre, so I was excited to start reading.This book, however, is about so much more than what it seems on the surface. It's hard to explain without giving away any of the plot or secrets but you know how much I love the weird and the wonderful and this was it!

An intricate plot and world building at it's best mixing magic and myths with realism that just flowed across the page. In the first half of the book we learn about the key players in this alternative version of the USA as well as the existence of dragons, and there's a few unexpected surprises along with way!

Told through multiple povs, the pace really picks up in the second half and I struggled to put the book down. It's fast and furious in parts but the story still flows with twists and turns until the big showdown at the end.

Early on in the book Sarah's dad warns her to stay away from the dragon and makes a comment that 'dragons don't have souls' and that they're 'different'. With some diverse (poc and queer rep) main characters, this is something that is picked up throughout the book under different strands including racism and homophobia, and religion, the threat of war among 'men', and dragons versus humans. We see it in the behaviour of the racist police deputy Kelby, the threat of war between the US and Russia (satellite and spying agendas), and again in the distrust between dragons and humans.

Standout characters for me include Sarah for her braveness and spirit, Kazimir who is also brave, wise and weird, plus he's a dragon, Malcolm's character development and a fire breathing baddie in this book who goes all out (no name given for spoiler reasons)!

Burn is an amazing epic fantasy adventure with dragons, but at the same time the core of this book also looks at the human mind, humanity and coexisting. How a person can be 'nothing special' but by the act of doing, be something very special indeed! There's sad moments mixed in with the sweet, beautiful friendships formed, and for some, there's a chance at redemption.
5 stars from me for this wonderful epic fantasy!

Thank you to @tandemcollectiveuk & @walkerbooksya for sending me this book. I was #gifted this book in exchange for an honest review.
Thank you to everyone who has stopped by – I hope you have enjoyed my review. Please check out the #Burnreadalong stories in my Instagram page https://www.instagram.com/miss_bohemia for more thoughts and reviews about this book!
About the Author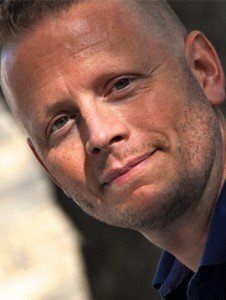 "I'm Patrick Ness. I claim three states in America as my home (as Americans are wont to do): I was born in Virginia, my first memories are Hawaiian, and I went to junior high and high school in Washington. Then I lived in California for college (at USC) and moved to the United Kingdom in 1999, where I've lived (mostly in London) ever since.
I've written nine books: 2 novels for adults (The Crash of Hennington and The Crane Wife), 1 short story collection for adults (Topics About Which I Know Nothing) and 6 novels for young adults (The Knife of Never Letting Go, The Ask and the Answer, Monsters of Men, A Monster Calls, More Than This and The Rest of Us Just Live Here).
For these books, I've won the Carnegie Medal twice, the Costa Children's Book Award, the Guardian Children's Fiction Prize, the Red House Book Award, the Jugendliteratur Preis, the UKLA Award, the Booktrust Teenage Prize and the fabulous, fabulous, fabulous Jim Kay also won the Greenaway for his illustrations in A Monster Calls (so buy that version, would you?).
I write screenplays as well, including for the movie version of A Monster Calls starring Liam Neeson, Sigourney Weaver and Felicity Jones, out January 2017.
I love the Decemberists, Peter Carey and A&W Cream Soda. I dislike onions. Intensely."
More information and where to buy to buy this book
PUBLICATION DATE: 07.05.2020
PUBLISHED BY: WALKER BOOKS /
RRP: 12.99
Waterstones | Book Depository | Amazon.co.uk