Midnight in Everwood by M. A. Kuzniar - Book Review & HQStories Tour
Posted on
Midnight in Everwood by M. A. Kuzniar - Book Review & HQStories Tour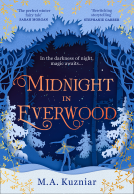 In the darkness of night, magic awaits…
Nottingham, 1906
Marietta Stelle longs to be a ballerina but, as Christmas draws nearer, her dancing days are numbered – she must marry and take up her place in society in the New Year. But, when a mysterious toymaker, Dr Drosselmeier, purchases a neighbouring townhouse, it heralds the arrival of magic and wonder in Marietta's life.
After Drosselmeier constructs an elaborate theatrical set for her final ballet performance on Christmas Eve, Marietta discovers it carries a magic all of its own – a magic darker than anyone could imagine. As the clock chimes midnight, Marietta finds herself transported from her family's ballroom to a frozen sugar palace, silent with secrets, in a forest of snow-topped fir trees. She must find a way to return home before she's trapped in Everwood's enchanting grip forever.
In the darkness of night, magic awaits and you will never forget what you find here…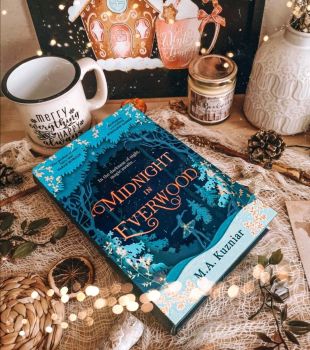 My Review
Highlighted as a retelling of The Nutcracker, but offering a new story in its own right, it has everything you want in a book! Beautiful prose, wonderful story-telling, mystical magical elements, a mysterious toymaker and a wonderful protagonist in a young ballerina called Marietta! The latter is held back from fulfilling her dreams to be a ballerina by a controlling father who expects her to marry, settle down and become a dutiful wife. Enter the mysterious Dr Drosselmeier, toy maker extraordinaire with tempting magical talents beyond your wildest dreams! He's a charmer and used to getting his way...

Set to star in her last allowed ballet performance on Christmas Eve, Marietta soon finds herself trapped in the clutches of Everwood! I was captivated by this beautiful magical world of sugar and spice and all things nice, balanced with things a little darker and deadly.
There's gorgeous gingerbread apartments,a decadent palace held within iced sugar walls sure to please the biggest sweet tooth! Marietta is now able to pirouette her way through all the dances and balls held in Everland! This all sounds marvellous except for an evil controlling King (Gelum - the villain I loved to hate) with an army of faceless soldiers and the dangerous shadowy paths surrounding Everwood! Despite this we see a strong female sisterhood form between Marietta and the other women held captive. Marietta also finds herself falling in love against all odds and learns that she's braver than she thought possible! What happens when the fallen take a stand? Can a ruthless ruler be stopped? Can Marietta get back to her world? Would she want to? These were questions I was asking myself as I wondered how this story would end, and although it came too soon, it was the perfect ending with a cherry on top!
I adored this whimsical dark and gothic historical fantasy! Set in a winter backdrop on Christmas Eve, it's the perfect winter read (for any time of year but especially colder months)!
It's a full 5 stars from me!
I received an arc from HQ stories (thank you). The view are my own views and opinions about the book. I loved it so much I purchased the Waterstones edition.
Where to buy this book
Thank you to everyone who has stopped by – I hope you have enjoyed my review. Please check out the rest of this blog tour for more thoughts and reviews about this book!