The Secret Voices (A Cora Lael Mystery Book 1) by M J. White - Review and Author Details
Posted on
The Secret Voices (A Cora Lael Mystery Book 1) by M J. White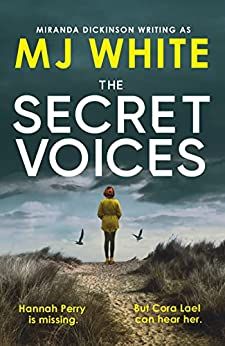 "They said they'd keep me safe. They said, 'It's okay, Hannah. You know you can trust me.' They lied.
When eight-year-old Hannah Perry goes missing in the small Suffolk village of St Just, the community is rocked. Heading up the investigation is Acting DS Rob Minshull, but he's out of his depth in an investigation full of dead ends. As the kidnapper taunts the police with deliveries of Hannah's belongings and cryptic notes, her life hangs perilously in danger.
Until Dr Cora Lael enters the picture. A psychologist with a unique ability, Cora's rare gift allows her to sense emotions attached to discarded objects. When she is shown the first of Hannah's belongings, she hears the child's piercing scream.
With few leads on the case, could Cora prove Hannah's only hope? And as time runs out, can they find Hannah before an unimaginable tragedy occurs...?
A twisty, original and utterly gripping detective thriller. Don't miss the crime thriller debut from the bestselling women's fiction author, Miranda Dickinson.
My Review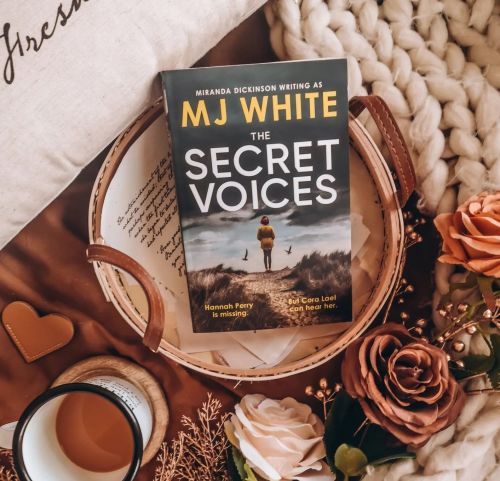 I've known about this story through Miranda's weekly chat Facebook page group, where I was lucky enough hear the early chapters read by the author herself. This was a story she had written years ago but it had not found it's publisher yet. If you follow me on social media you'll know Miranda is one of my favourite authors and her books are always heartfelt, uplifting and the kind that will make you laugh as well as making you shed a tear sometimes too. As a crime thriller, The Secret Voices was a totally different genre to Miranda's other books, but as soon as she read the first chapter, the whole group became silent (and it's a really chatty group) as we listened to what we knew it was something special. We later got to celebrate when this book was picked up by a Hera Books and fast forward to the present time, I'm here reading and reviewing this story.*Miranda Dickinson writing as MJ. White.
It starts off with an eight year old child going missing and then brilliantly combines everything that happens thereafter in a small community. We follow the dark path of events mainly told through the voices of Hannah Perry, psychologist Dr Cora Lael and Acting DS Rob Minshull.
When the powers that be at South Suffolk Police department bring in Acting DS Rob Minshull to head up the search, this causes some discontent in the unit, and it's further worsened by the police failure to solve a similar case seven years prior. But there's office banter and things like putting salt instead of sugar in the newbie's tea to help balance and add a smile at times in what is a dark story.
Dr Cora Lael, a psychologist with a rare gift of picking up on emotions and feelings by touching objects is brought in (in secret) to help with the investigation once an item of Hannah's is sent to the station. For Cora, her ability often reduces her to experience life as an outsider, only ever looking in. It's a curse she never wished for but working on this case may help her to see it as a gift. It's all done in such a realistic way that drives the plot without relying on make believe or fantastical story-telling.
*If you're interested, check out conditions like Synaesthesia, a rare neurological phenomenon where a small percentage of the population have the ability to taste words.
Rob is standoffish with Cora at first (and it takes him a while to warm up to his own unit too) but as the story develops we get to see his real character shine through and there's touching and frustrating moments between the two. Hannah's voice lends a vital element to the story that makes it all the more real and sometimes chilling.
If you've watched police procedural dramas (like The Bill, Ashes to Ashes etc) you'll see the similarities in police story telling unfolding, but in book form you'll also gain extra insight through the direct thoughts of Minshull and other members of the CID unit. As well as moving the investigation along, Cora's special ability adds an original twist to the story. I loved the insight into how she felt emotions when touching objects and her surprise when she heard Hannah's voice for the first time. If, like me, you love following and solving mysteries you'll be caught up in the investigation and trying to find out who the kidnapper is. There's a few clues peppered throughout the book and some I picked up on at the time but I still couldn't guess correctly.
The Silent Voices is a detective thriller with a gripping plotline that draws you in as you fall down a dark and twisted path while still hoping for a happy ending. As always, Miranda captures her characters perfectly on the page - especially Hannah's vulnerability and resilience, Cora's character development of herself and her gift and the complexiting of different people working towards a common goal. I can't wait to read about Dr Cora Lael in the next book.
A big 5 stars from me!

Thank you to everyone who has stopped by – I hope you have enjoyed my review. Please check out the informaton below for where to buy this book and more about the author!
Where to buy this book
The Silent Voices is available at most online book sellers including the following
The Secret Voices Signed Book Box as seen below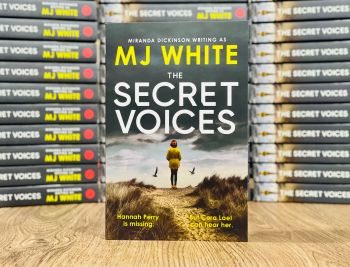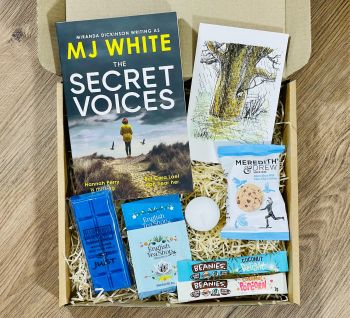 Click here for more buying options and author links
Etsy Shop for books and book related merch can be found here
About the author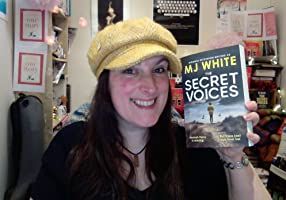 MJ White is the pen name of million-copy selling Sunday Times bestselling author, Miranda Dickinson. Her debut crime series featuring Dr Cora Lael begins with The Secret Voices. A huge fan of crime fiction and particularly police procedurals, Miranda wrote The Secret Voices largely in secret and is chuffed now to finally share Cora, Acting DS Rob Minshull and the detectives of South Suffolk CID with the world! Miranda is also the host of weekly Facebook live show Fab Night In Chatty Thing - and it was reading extracts of The Secret Voices for her viewers that convinced her and her agent to send out the book to publishers. Miranda is delighted to be published by Hera Books and promises more thrilling adventures for Dr Cora Lael to come…
Follow Miranda @wurdsmyth on Twitter and Instagram and also her dedicated MJ White twitter account @MJWhite13.
Follow Miranda's vlog at www.youtube.com/mirandawurdy and visit her website: miranda-dickinson.com
You can also follow Miranda on Twitter @wurdsmyth, on Instagram @wurdsmyth and on Facebook: MirandaDickinsonAuthor