Valentine's Day Gift Ideas ~ Love Is In The Air
Posted on
Valentine's Day Gift Ideas
Love Is In The Air
With Valentine's Day being around the corner, I have put together a collection of some of my favourite designs made with 'LOVE' in mind! If you're looking for a gift for the special person in your life, look no further than below for some wonderful alternative gift ideas - handmade by moi!
I will also be hosting a Valentine's Giveaway (details to be announced later on this blog) and share some cute tutorials for creating a homemade Valentine's Day cards and gift tags for that special person in your life!
Great gifts for literary & jewellery lovers alike
Taking inspiration from Emily Brontë's novel Wuthering Heights and the tale of doomed lovers Catherine and Heathcliff, this jewellery Box has been given a vintage makeover and includes one of my favourite quotes "If he loved you with all the power of his soul for a whole lifetime, he couldn't love you as much as I do in a single day." spoken by the broody Heathcliff. Not the sweetest love story but a powerfuly and compelling one for those who love the literary classics!
Following on with the literary classics, this pocket mirror takes inspiration from Jane Austen's Pride and Prejudice novel and features the dashing Mr Darcy's proposal "You must allow me to tell you how ardently I admire and love you'' in a handwritten styled quote and there are more literary choices available at www.missbohemia.com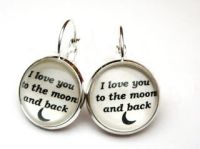 How sweet are these stylish pair of silver plated earrings which feature the quote "I love you to the moon and back". The earrings also come complete with a cute crescent shaped moon.
With Love from Paris!
If you're not whisking your loved one off to the Paris (the city of love), how about surprising them with a keepsake box, reminiscent of the glory of days gone by. Part of the shabby chic romantic collection, this pretty pink keepsake box features hand stamped images of Parisian mementos and faux pink pearls. Perfect for your loved one's trinkets, jewellery and other treasures!
This cute and quirky necklace is made with love from Paris and features a cute 3d antique silver plated Eiffel Tower charm and a red faceted heart.
Stay tuned for the Valentine Crush Giveaway :-)
Jen ♥